Air Con Cleaning Services Penrith
Coverage:

Penrith, Upper and Lower Blue Mountains, Leonay to Blackheath, Winmalee, Erskine Park, Glenmore Park, Cranebrook, Greendale, Kemps Creek, Kingswood, Silverdale, Mulgoa, Orchard Hills, Wallacia, Oran Park and surrounding areas.
Why should you choose Purify Air Con Cleaning Penrith?
Convenience is key! Purify Air Con Cleaning Penrith come to your home, business, office, school, motel complex, health and medical centre or residential apartment tower at a time that is convenient to you and ensures minimal disruption and your personal comfort.
We are specialists in air and surface purification, a national company and provide homes and business advice and solutions for all purification needs, to create a healthy home and office environment.
Maintaining a clean air conditioning unit, helps you save on energy costs, it will also prolong the lifespan of the unit, saving you money in the short and long term.
Purify Air Penrith delivers air conditioning cleaning that deep cleans and sanitises your air conditioner unit ensuring your family, staff and customers are not affected by bacteria or mould that grow in any air conditioner you use every day.
Phone 0447 196 102 or our national 24/7 number 1300 844 404 for your free quote.
---
Welcome to Purify Air Penrith, which is proud to offer Penrith, the Blue Mountains and surrounding areas with the latest technology and solutions in air and surface purification.

Being a part of Purify Air is a great opportunity to provide the community with proven methods and solutions to provide a healthy home and business space. Over the past few years and moving to the future it's more important to ensure our homes and business environments are safe and healthy.

People are now more aware of the environment in which they live. Now there's a high demand for air-conditioning cleaning services within our region. Purify Air Con Cleaning Penrith, prides itself on providing high-quality products, strong knowledge and exceptional service that will leave each client feeling confident with the air they are breathing within their home/business.
---
---
Purify Air Con Cleaning Penrith provides a full range of air conditioning cleaning solutions for ductless air conditioning systems. (Split systems and cassette units) and sanitization of ducted air cleaning systems.

Additional services we provide are anti-viral, anti-bacterial, anti-mould and anti-fungal domestic and commercial fogging and odour neutralisation treatments using the latest nanotechnology.

Here at Purify Air Penrith we have a strong work ethic and guarantee professional, exceptional and reliable service, with the use of quality products, extensive training and knowledge. PURIFY AIR PENRITH, is fully insured. We aim to uphold the strong reputation purify air conditioning cleaning has established with its ongoing clientele.
---
See business reviews on our Purify Air Penrith Facebook and Google business page.
You can contact me for a free, no-obligational quote at murray.b@purifyair.com.au or 0447 196 102. Alternatively, you can phone our Australia Wide Call centre on 1300 844 404 or make a quote request via this website.
Purify Air Penrith is committed to being the most trusted and best value Air Conditioning Cleaning service in Penrith, Upper and Lower Blue Mountains and surrounding areas.
---
---
---
Purify Air Con Cleaning Penrith use the very latest equipment to thoroughly wash the cooling coil, barrel fan, filter and covers and those damp dark places where mould and bacteria love to grow.
We treat the system with an antibacterial solution to inhibit the growth of mould and bacteria giving you up to 12mths protection and we get to the places you can't reach…
We remove dust, mould and bacteria from inside your air conditioner.
Cleaner air means fewer allergies and flu-like symptoms.
Save up to 30% on your energy costs.
Improved airflow reducing your energy costs.
Help protect you and your family and workplace
By removing the mould, bacteria, built-up oils and dust from the air conditioning unit, Purify Air Con Cleaning will have your unit smelling, looking and operating like new!
5 Signs That Your Split System Unit Needs a Clean
You have a high energy bill. Help reduce your power costs! A clean air con is much more efficient thus using less energy.
There is weak airflow coming from your unit. If you have turned your unit on and notice that it isn't very powerful, this could mean your fan needs a clean. The less air being circulated through the room, means the longer it takes to cool the room down or heat it, therefore using a lot more energy.
The air coming from your unit has a bad smell. If you can smell a musty odour coming from your unit when you turn it on, this means your unit has a build-up of dirt, mould and bacteria which circulates through the room each and every time you turn on your unit.
Your health is being affected. Clean air can help anyone who suffers from asthma, allergies, hay fever and ongoing sinus problems.
Your unit isn't running as efficiently. Keeping your filters regularly cleaned helps greatly with the efficiency of the unit and reduces the amount of dirt getting into the air conditioner. This can reduce your energy costs while also benefitting your health.
Did you know: Regular cleaning of your air con unit can increase its life span saving you thousands of dollars in replacement costs?
Our Purify Air Split System Premium Clean 18 Point Check List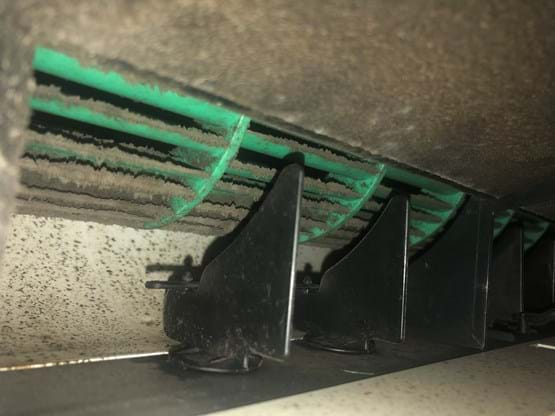 All operators are fully trained independent Franchise Owners and fully insured!
Purify Air operators come fully equipped and can service your home, work or office.
So for all your Split System and Air Con Cleaning needs call Purify Air – Air Con Cleaning for a prompt, professional & friendly service guaranteed!
---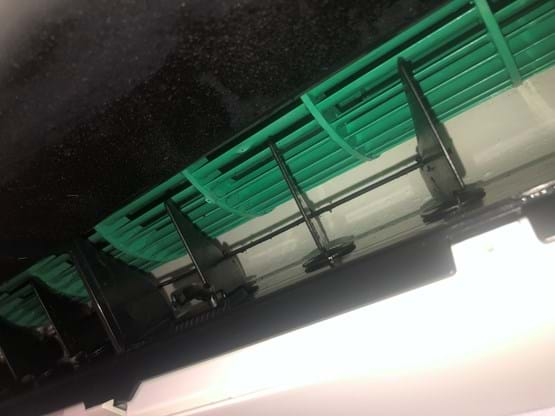 ---
Check and test each Air conditioner prior to cleaning ( We don't clean air cons that don't work properly)
Place waterproof tarp over all floor coverings or furniture below the air con unit
Take before and after photos to send or show our clients the difference after our thorough clean
Remove, clean and sanitise filters
Remove and wash all covers
Isolate where possible and cover all electrics for safety
Physically treat and clean the coils behind the filters, the fan and fan housing
Light pressure wash to flush out impurities into a catchment bag so there is no mess
Flush the drain to check for possible leaks
Sanitise the coil, fan and fan housing
Reassemble all components
Dry any excess moisture on or around the air con unit
Test unit
Clean the remote control if required
Inspect external units on ground level for any build-up of foreign matter including weeds, long grass, pet hair, dust and mould and will remove and flush if necessary
Can replace damaged or missing insulation off heating and/or cooling copper pipes to external unit, resulting in much better efficiency**
Clean up the work area from all work completed
Provide a completed service checklist and next service sticker with recommended next service date
**Speak to your Purify Air Technician about replacing the insulation on the external piping leading to the outside unit if it is damaged or withered and what costs are involved.