Extreme Value
Created to deliver outstanding results
Lasting Protection
Control germs, bacteria & mould
Nano Technology
Alcohol free, lasting protection
---
LONG LASTING ANTI-VIRAL, ANTI-FUNGAL, ANTI-BACTERIAL & ODOUR NEUTRALISER CONTROL FOR YOUR HOME AND BUSINESS
As one of the Forcefield Nano Technology suppliers in Australia, we are proud to offer their range of chemical-free products, to control the spread of germs, mould, bacteria, & odours (TGA COVID-19 Approved for up to 30 days. ARTG Identifier 345410)
We have Personal Sanitisers & Spray Stations for your skin and we have 4 in 1 Multi-Purpose Disinfectant & Cleaner for surfaces.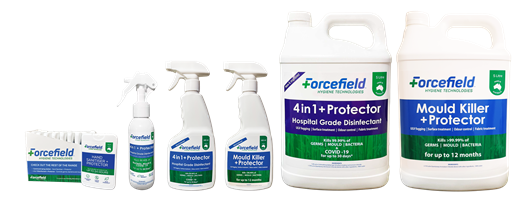 ---
HAND SANITISER + PROTECTOR
24 Hour TOXIN free HAND SANITISER SPRAY
Toxin free, Alcohol free
Not a gel or foam...In a spray form for longer value.
Up to 24 hour protection & under 3 cents a day
45ml Flat units (450 sprays)
Kills 99.99% of germs for up to 24 hours
One unit can last 1 person over 12 months
Created to deliver outstanding value
Forcefield Nano Technology
What is NANO TECHNOLOGY?
Nanotechnology is defined as the study and use of structures between 1 nanometer and 100 nanometers in size. To give you an idea of how small that is, it would take eight hundred 100 nanometer particles side by side to match the width of a human hair.
In cleaning applications new Nanotechnology based alcohol-free hand sanitiser proves more effective and less harmful than alcohol-based brands at killing 99.99% of germs and viruses.
---
SPRAY STATIONS & HAND SANITISER REFILLS
HYDRATING Formula will NOT irritate or dry out your hands
Up to 24-hr protection under 3 cents a day
Perfect for staff, visitors & family
500ml refills available (2750 sprays)
Toxin free, Alcohol free
Not a gel or foam...In a spray form for longer value
Forcefield Nano Technology
---
4 IN 1 DISINFECTANT TRIGGER SURFACE SPRAY
MULTIPURPOSE Disinfecant, Cleaner & Protector
Kills 99.99% of germs
Odour neutralises, leaving a fresh smell
Fabric sanitation & protection
Controls germs & mould
Spray to sanitise handles, desks, chairs
Air conditioner treatment
Surfaces become easier to keep clean
Great for kitchens, toilets, taps, computers
Use in cars, caravans, boats & more
NANO TECHNOLOGY THAT WILL SAVE YOU TIME & MONEY
The Forcefield Hand Sanitiser, Spray Station and 4 in 1 Disinfectant is a super effective solution for high traffic areas such as commercial, office and retail spaces. They are perfect for:
Gyms
Cafes & Restaurants
Medical & Allied Health Centres
Child Care Centres & more
THE MAIN REASONS YOU SHOULD ONLY USE FORCEFIELD SKIN & SURFACE PRODUCTS
Has a light and fresh scent
Hydrating Formula - Will Not Dry Out Your Hands
Safely Kills 99.99% Of Germs
Lasts Up To 24 Hours or 10 Hand Washes With 1 Spray
Non-toxic, Non-VOC Eco-friendly Product
2750 Sprays Per Refill For Wall Mounted or Bench Top Spray Stations @ $0.03 Per Spray Per Day
Hand Out To Staff, Clients, Family & Friends
Can Last 1 Person Over 12 Months
Non-flammable, Not alcohol gel - No Skin Irritation
Counter Display Box Available For Commercial & Public Spaces
**Ask us about our huge discounts with bulk orders**
---
How can poor indoor air quality put your health at risk?
Breathing fresh air protects your health and improves almost every minute of every day. An active air purification system from Purify Air and The Clean Air Company uses proven technology to give you the cleanest air – without the use of harmful chemicals or energy consumption, high maintenance and often ineffective filters.
Most people spend over 90% of their time indoors.
Unlike outdoor air pollution, nature cannot purify the air inside your building, so we have to give it a little help.